Opera by G F Handel , fully staged with HGOAntiqua Orchestra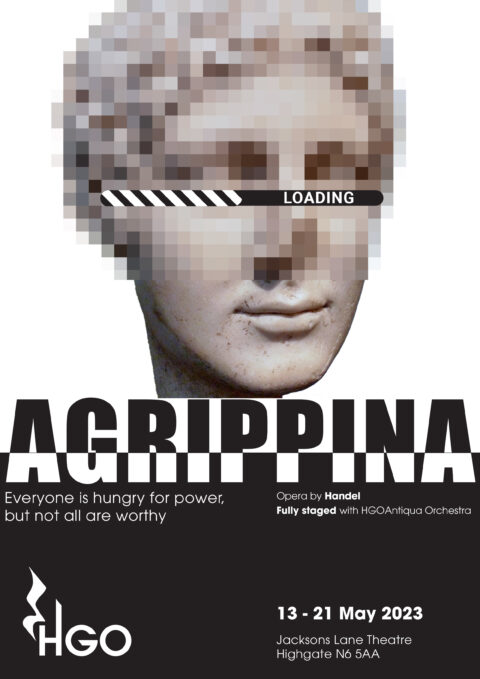 Click on the picture to download our free flip-book programme, which can be printed, or read on your phone/computer/tablet.
Everyone is hungry for power, but not all are worthy…
The Coronation that goes wrong: When Agrippina hears of the death of her husband Claudio by shipwreck, she seizes the opportunity to place her son Nerone in power. After securing the support of the toadying  Narciso and Pallante, she is chagrined to find Claudio has been saved by the gallant Ottone, whom Claudio has rewarded with a promise of  the crown. But Claudio, Nerone and Ottone are all obsessed with the cunning Poppea… As they pursue her, and Agrippina tries to steer Nerone back into the line of succession, we're left to wonder whether any of these people should really be in charge…
Our special thanks go to:
The Arts Society Greater  London Area
and to
The Maria Bjӧrnson Memorial Fund

Continuo Foundation

The Golsoncott Foundation

Gilbert and Vahideh Hall

The Boris Karloff Charitable Foundation

The D'Oyly Carte Charitable Trust
for their support for this production.
Orchestra 1 – Name
Orchestra 2 – Name
Orchestra 3 – Name
Orchestra 4 – Name
Orchestra 5 – Name
Orchestra 6 – Name
Orchestra 7 – Name
Orchestra 8 – Name
Orchestra 9 – Name
Orchestra 10 – Name
Conor Gricmanis, Maxim del Mar, Edmund Taylor
David Price, Grace Scott Deuchar
Type title of video here and add youtube hyperlink