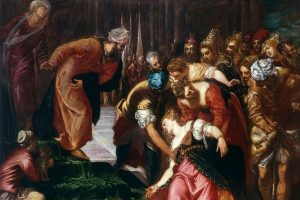 UK premiere of the 1774 oratorio by Cristiano Lidarti to a Hebrew libretto by Rabbi Jacob Saraval
Tickets now available!
HGO is proud to present the UK premiere of the unique oratorio 'T'shuat Yisrael al Yedey Ester – The Salvation of Israel by the Hands of  Esther' , at The Free Church, Hampstead Garden Suburb, on 13 March 2022 – just before the Jewish festival of Purim, which celebrates the biblical story of Esther. 
The libretto, in Hebrew, commissioned by the Sephardi congregation of Amsterdam from Rabbi Jacob Saraval in the 1750s, was set a few years later by the Italian composer Cristiano Lidarti (1730-1795). It is the earliest known oratorio to have a Hebrew text.  Lidarti's charming setting was lost until the manuscript turned up in Cambridge University Library in the 1990s. 
Lidarti's galant style is clearly influenced by both Haydn and the tradition of Pergolesi. Scored for choir and baroque orchestra of strings, horns, flutes and oboes, with solo roles for Esther, Haman, Mordecai and Ahasuerus performed by HGO stars, this performance, sung in the original Hebrew, will be the first ever in England. We are delighted to be able to hold the performance in Edward Lutyens's magnificent Free Church.
Londinium Choir
HGO Antiqua Orchestra
Conductor: Andrew Griffiths
This event is generously supported by Hampstead Garden Suburb Trust and by
anonymous donors.