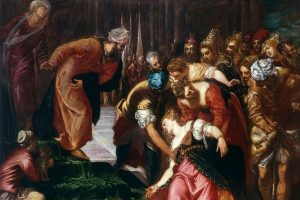 UK premiere of the 1774 oratorio by Cristiano Lidarti to a Hebrew libretto by Rabbi Jacob Saraval
Free Church, Hampstead Garden Suburb,  NW11 7AA
HGO was proud to present the UK premiere of the unique oratorio 'T'shuat Yisrael al Yedey Ester – The Salvation of Israel by the Hands of  Esther' , at The Free Church, Hampstead Garden Suburb, on 13 March 2022 – just before the Jewish festival of Purim, which celebrates the biblical story of Esther. 
The libretto, in Hebrew, commissioned by the Sephardi congregation of Amsterdam from Rabbi Jacob Saraval in the 1750s, was set a few years later by the Italian composer Cristiano Lidarti (1730-1795). It is the earliest known oratorio to have a Hebrew text.  Lidarti's charming setting was lost until the manuscript turned up in Cambridge University Library in the 1990s. 
Lidarti's galant style is clearly influenced by both Haydn and the tradition of Pergolesi. Scored for choir and baroque orchestra of strings, horns, flutes and oboes, with solo roles for Esther, Haman, Mordecai and Ahasuerus performed by HGO stars, this performance, sung in the original Hebrew, was the first ever in England. We were delighted to be able to hold the performance in Edward Lutyens's magnificent Free Church.
For more information about this fascinating work, click here.
Soprano: Sophia Anderton, Fiona Clark, Kathy Dallas, Katie O'Donoghue, Molly Goetzee, Sophie Hopkins, Mai Kikkawa, Isobel McIntosh, Hazel Mehta, Alison Shiers, Helen Statham, Rebecca Slattery, Rebecca Swaine, Grace Vaughan, Helena Whitfield
Bass: David Henderson, John McLeod, Tony Piper, David Stocks, Chris Swithinbank, Michael Tomkins, Maurice Wren
Violins               Dominika Fehér (leader),  Hatty Haynes, Gabriella Jones,                                              Andrej Kapor, Maxim del Mar, Mark Seow,  Henry Tong
Violas                Joanne Miller,  Francesca Gilbert
Cellos                 Carina Drury (continuo), Poppy Walshaw
Double Bass    Rosie Moon
Flutes                Rosie Bowker, Amelia Shakespeare
Oboes               Nicola Barbagli, Joel Raymond
Horns                Daniel de Souza, Isaac Shieh 
The event was generously supported by Hampstead Garden Suburb Trust and by an anonymous donor.
Michael White, BBC Music Magazine 
Tom Service presents HGO's production
Bridget Galton, Hampstead and Highgate Express