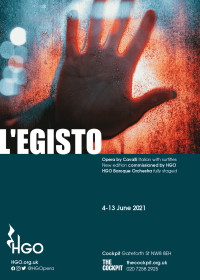 Programmes sold to support HGO. If you choose to download one, where available, we ask that you make a donation. Thank you.
The lovers Egisto (a descendant of Apollo) and Clori were abducted by pirates in Delos; Clori was sold in Zakynthos, where the pirates also captured Climene, on the day of her wedding to Lidio. A year later, Egisto and Climene escape to Zakynthos, to find Clori in love with Lidio and also courted by Climene's brother Hipparco.
In the course of 24 hours, dismay, remorse, plans of revenge, madness, and the quarrels and interference of the gods, lead to reconciliation and a happy ending.
Once again HGO brought opera back to London in the time of COVID with a specially-commissioned new edition of Francesco Cavalli's musical fable L'Egisto, fully-staged with baroque orchestra. The production won glowing reviews and has been nominated for an OFFIE (Off West-End) Award.
Semele/Bellezza
/Hora Seconda
Production and Music Director
Assistant Production Director