5 6 7 10 11 12 13 NOVEMBER 2021 (19.00)
14 NOVEMBER 2021 (16.00)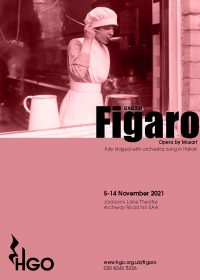 You can click the image to access our flipbook programme, which can also be printed out.  If you access it, please consider making a donation of whatever amount. Thank you.
Count Almaviva's estate clings to its former glory, in denial that the First World War is on its doorstep.  Figaro and Susanna try to live and love by their present values, though their livelihoods depend on those of the past … 
The romantic and the ridiculous meet in HGO's boisterous retelling of Mozart and da Ponte's iconic masterpiece "
Le nozze di Figaro
." Directed by two-time Off West End Award Nominee
Julia Mintzer
and conducted by  Jette Parker Young Artist alumnus
Thomas Payne
, 
Figaro 
will be performed in Italian (with surtitles) with the HGO Chamber Orchestra at Jackson's Lane Theatre, featuring as always the coming generation of opera stars …
November 5, 6, 7, 10, 11, 12 & 13 at 7.00pm: November 14th at 4.00 pm.
FIGARO:
Louis Hurst (5, 7, 11, 13 November)   James Gribble (6, 10, 12, 14 November)
SUSANNA:
Shafali Jalota (5, 7, 11, 13 November)   Anna-Luise Wagner (6, 10, 12, 14 November)
COUNT ALMAVIVA:
Thomas Chenhall (5, 7, 11, 13 November)   Peter Edge (6, 10, 12, 14 November)
CONTESSA:
Camilla Harris (5, 7, 11, 13 November)  Rusne Tuslaite (6, 10, 12, 14 November)
CHERUBINO:
Esme Bronwen Smith (5, 7, 11, 13 November)   Emily Kyte (6, 10, 12, 14 November)
BASILIO/DON CURZIO:
Martins Smaukstelis (5, 7, 11, 13 November)   Daniel Kringer (6, 10, 12, 14 November)
BARTOLO:
Hector Bloggs (5, 6,  7, 10, 11, 12, 13, 14 November)
MARCELLINA:
Becca Marriott (5, 7, 11, 13 November)   Deborah Holborn (6, 10, 12, 14 November)
ANTONIO:
Owain Evans (5, 7, 11, 13 November)   Emil Vincenzi (6, 10, 12, 14 November)
BARBARINA:
Astrid Joos (5, 7, 11, 13 November)   Phoebe Smith (6, 10, 12, 14 November)
BRIDESMAID 1:
Phoebe Smith (5, 7, 11, 13 November)   Astrid Joos (6, 10, 12, 14 November)
BRIDESMAID 2:
Astrid Joos (5, 7, 11, 13 November)   Phoebe Smith (6, 10, 12, 14 November)
CHORUS:
Anna Simmons, Angela Yang
Costume Designer/Props Asst
Sound and Lighting Designer
Violin – Janell Yeo, Leidy Sinclair
Viola – James Flannery
Cello – Hee Yeon Cho
Flute – Sofia Castillo Zambrano
Oboe – Izy Cheesman
Clarinet – Freya Spence
Bassoon – Hugh Wooley
Horn –  Laurie Truluck, Hannah Key
Timpani –  Tristan Butler
Continuo – Elspeth Wilkes
Colin Clarke, Seen and Heard International
David Winskill, Ham& High